ADVERTISING & SPONSORSHIPS
The International Fastener Expo offers a variety of ways to stand out from the competition and drive business to your company. With a mix of affordable and effective advertising and promotional opportunities, you are guaranteed exposure and attention unrivaled to what any other trade show can offer.
Please contact our sales team with questions or to make your purchase.
DIGITAL PROMOTION PACKAGES
We are excited to offer you several digital promotion packages designed to help you reach your target audience, build quality pre-show leads, and increase your ROI at the show.
Bronze – $395
Enhanced listing features (see chart for details)
Silver – $795
Bronze listing features + more! (see chart for details)
Premium placement at the top of the exhibitor list
Gold – $1,195
Silver listing features + more! (see chart for details)
Booth highlight on interactive floor plan
Free floor plan banner ad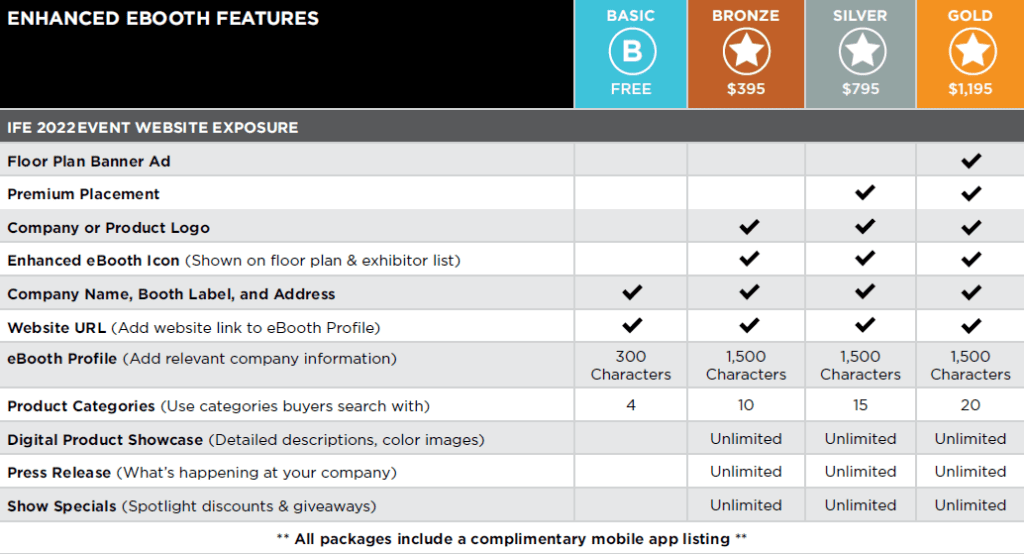 Log in to the exhibitor console to complete your exhibitor profile and learn how you can make a lasting impression on attendees. For questions regarding enhanced listings, or how you can improve your online profile, contact: Ashish Jain at (443) 393-2441 or exhibitsupport@a2zinc.net.
EMAIL MARKETING CAMPAIGN
Be prepared to engage with show attendees before you set foot on the show floor. Renting our attendee list to email them before the show opens is a great way to start the conversation with potential customers about new products and special promotions. Your message will be delivered to thousands of show attendees including distributors, manufacturers, and independent sales representatives.
Investment – Starting at $800, contact your Account Executive to learn more
FEATURED SOCIAL MEDIA POST
Expand your reach during the show with extra promotion of your booth through our featured social media posts! A photo of your booth, team, and product will be posted to the International Fastener Expo social media accounts.
Investment – $500
FLOOR PLAN BANNER AD
All attendees will be viewing the online event map. Catch their attention in this hot spot with a trackable banner ad (205×60).
Investment – $795
FLOOR PLAN VIDEO
Investment – $195
HOTEL RESERVATION SPONSORSHIPS
IFE has three hotel reservation sponsorship opportunities for your company to increase its brand awareness before the show. Your company will be seen by every attendee that utilizes our hotel website.
Premium Sponsorship Package
Your company will be featured on the initial hotel reservation splash page and a promo cube on the following landing page.
Logo on the splash page 390×180 px
Background image on the splash page 1920×1080 px
Promo cube with logo 120×90 px
Promo cube pop-up with company information and website url
Exclusive Sponsorship
Investment – $6,000
Landing Page Promo Cube
Stand out to attendees with a promo cube on the hotel reservation landing page.
Promo cube with logo 120×90 px
Promo cube pop-up with company information and website url
Investment – $3,000
Reservation Acknowledgement Email
Display your company's logo on the reservation acknowledgement email sent directly to attendees when they book their hotel rooms.
Promo cube with logo 120×90 px
4 Opportunities Available
Investment – $2,000
IFE MATCH SPONSORSHIPS
IFE Match is a new matchmaking and onsite appointment setting platform that makes doing business easier than ever. The following opportunities are available to get your brand in front of everyone at this year's expo:
Banner Advertisements– $1500 – 10 Available
Ads will be shown in three locations in the app as well as on the top right corner of the web platform. App locations include the Event Agenda page, each Profile list (exhibitors, visitors, speakers, etc), and the "More" page.
Featured Profile – $750 – 7 Available
Sponsors will be put at the top of the exhibitor list and match recommendations (once they match with an attendee).
Push Notifications – $500 – 4 Available Per Day
These messages (150 characters) can link to an external website or to an exhibitor's profile.
SOCIAL MEDIA LIVE ON LOCATION INTERVIEW
Reach IFE attendees and non-attendees from your booth with a Live Social Media Interview at International Fastener Expo! Build your authority and tell your story straight from the show floor with this live interview. The interview will be conducted from your booth and will receive exposure on International Fastener Expo social media accounts.
Investment – $2000
WEBSITE ADVERTISING
The fastenershows.com website attracts over 350,000 views annually. Premium placement on the website offers excellent exposure before, during and after the show. Take advantage of this opportunity and make an impression on customers today.
RUN OF SITE (except buyer registration pages):
Leaderboard* – $2,550
Inline** – $1,950
Anchor banner* – $1,250
 *Run of Site  |  **Home page only
 Specs: 728×90 and/or 970×90 for desktop; 300×250 for mobile (submit all three for best results)