2022 was overshadowed by macrotrends like unrelentingly high inflation and interest rates, slowing GDP growth and distorted energy costs, which are likely to continue in 2023 causing continued uncertainty for supply chains this year.
With COVID, economic and political unrest, extreme weather, and more, supply chain and procurement leaders have remained resilient and agile to navigate these unpredictable times. As we enter 2023, the following 7 central themes will be top of mind for these leaders who are placing a strong focus on corporate values and societal good.
7 Focal Points for Supply Chain and Procurement Leaders in 2023
Rise of Corporate Citizen
Boston College Center for Corporate Citizenship defines corporate citizenship as "how a company exercises its rights, obligations, privileges, and overall corporate responsibility within our local and global environments." Employees are taking notice of this alignment of values; a survey by Qualtrics found that 56% of US employees wouldn't consider a job in a company that has values they oppose. Employees are not the only ones supporting corporate citizenship, investors and partnerships with suppliers are also positioning their alliances with companies that share corporate values and vision.
Trending 2023 Best Practice: Social Procurement
Social procurement shifts focus from finding the lowest price to partnering with the best value, beyond just a cost perspective. This 2023 trending best practice ensures dollars spent during procurement make a positive impact in the communities these organizations serve.
Speak Softly and Carry a Big Supply Chain
When Russia invaded Ukraine in February 2022, organizations both large and small took notice and unleashed their own weapon of choice on Russia's supply chain. Over 150 out of 200 of the largest global companies halted operations in Russia including 133+ global corporations who exited completely, 416+ who halted or withdrew operations, and 711+ who temporarily suspended business operations.
Top 2023 Priority: Supply Chain Strategy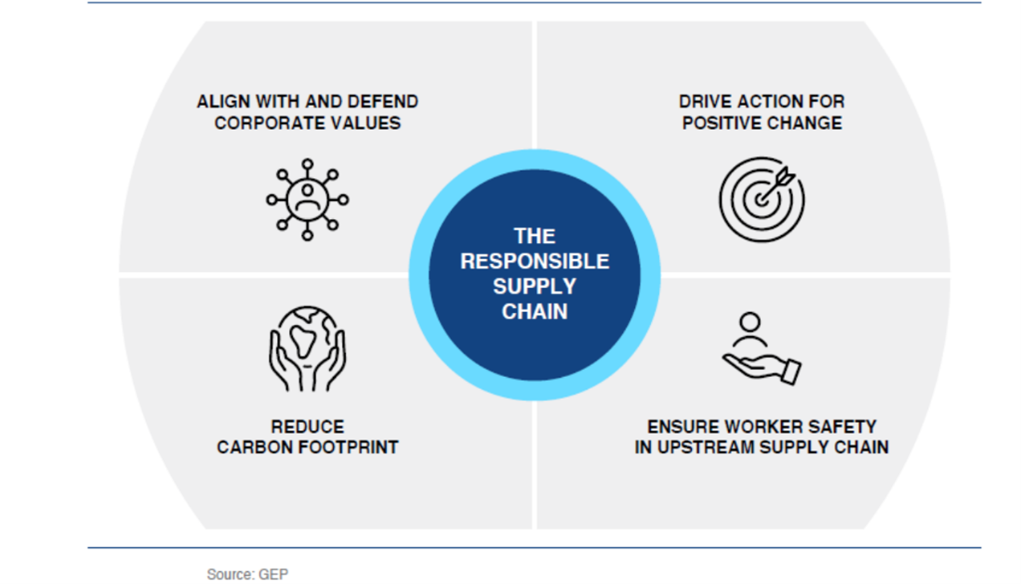 Delivering ESG Outcomes Through Supply Chain Operations
Supply chain operations are committed to the long-term strategy of increasing supplier diversity, reducing emissions, and improving working conditions. Organizations must not only look at their internal approaches but also take a proactive method to examine suppliers and partners.
Data-driven Approaches

– Third-party data providers have been instrumental in assisting supply chain and procurement leaders in creating targets and KPIs and then tracking this data to identify wins, opportunities, or gaps in their approach.

Sharing and Enforcing Business Practices with Partners Through Policy

– Around 70% of total emissions are a result of scope 3 emissions, out of the control of the primary company occurring within its value chain. To tackle this challenge head-on, organizations must look outward at their supplier base. This can be executed with contract clauses and DEI requirements enforced through policy and code of conduct.

Center-led Procurement to Influence Supplier Sustainability –

Procurement has a pivotal role in leading the charge for sustainability. Center-led procurement allows organizations to decide which suppliers they will spend with, how much and the terms associated with these transactions. Supply chain and procurement leaders can leverage the content of their contracts with suppliers to add a more heavily focused sustainability clause.

Enabling ESG Through Digitization

– This allows supply chains to work more efficiently by allowing insight and familiarity into ESG KPIs that can be shared with suppliers and work as a guide into making more informed decisions.
Cultivate a Digital-First Supply Chain
Supply chains are making true investments in digitalization with a forecasted growth of 16.5% (up to $6.3 trillion) over the next two years. Data is king for supply chain leaders, helping them to remain resilient, adaptable, and responsive. The GEP Outlook says that supply chain leaders should focus on the following digital solutions:
Real-time data visibility and access
Built-in agility
Advanced predictive analytics
Automated workflow orchestration
Collaboration across the value chain
Concentrating on these digital strategies will offer businesses a competitive advantage, empower leaders to make data-driven decisions in a timely manner and stay ahead of the curve in 2023 and beyond.
Leading Through Inflation: Think Outside the Box for Success
In order to yield the greatest opportunity to benefit throughout inflation, supply chain and procurement leaders must look at taking a holistic approach to identify improvements.
Data and technology are at the forefront of creating this all-encompassing process creating the ability for organizations to participate in real-time collaboration, forecasting and planning. This data visibility and collaboration results in lower supply chain risk and cost.
Supply chain and procurement leaders have the opportunity to look at a wide variety of strategies to navigate and battle through inflation. 2023 is projected to be a year of high input cost pressure. Some less commonly used strategies used that you may want to consider are reuse and reduce and prequalifying multiple components.
Rethink Supply Chain and Procurement Metrics to Drive Value
Scorecards, metrics, and KPIs must evolve to track the reality of where we currently are with macroeconomic, industry and market trends. These modifications will result in high-performing teams, measurable impacts and help to determine and guide the future of partnerships with internal stakeholders and suppliers.
Developments influencing the direction of the redevelopment of supply chain and procurement metrics:
Operational efficiencies with digitization
Cost protection
Supply security and risk mitigation
ESG
Remote Working: An Opportunity to Attract Diverse Talent and Catalyze DEI Goals
Every aspect of how we work has changed in the past few years, including the commitment to diversity, equity and inclusion (DEI) and the way in which organizations strategize their talent management processes to improve DEI efforts and goals.
Remote work is one component fueling the DEI strategies of businesses, allowing employers to cast a wider net of candidates that were once excluded due to geographic limitations, disabilities like mobility, and primary caregivers who now have a more balanced ability to work through remote opportunities.
2023 Hiring Best Practices to enhance workplace diversity:
Rethinking job requirements
Creating neutral job descriptions
Eliminating racial and gender biases
Minimizing recruiting bias