As of January 2023, U.S. construction spending is valued at $1.823 trillion and employs 7 million people throughout the 680,000 employers who make up the industry. The United States, as well as China, will witness a high demand for industrial fasteners due to the sizable construction industry and large-scale building projects; everything from residential and commercial projects to government infrastructure developments have added need to the fastener industry.
Innovations in the Construction Fastener Industry
Drilling Robots and "Smart" Fasteners: Most notably, Hilti, has developed innovative technology and tools to help with the construction industry and the way that fasteners are used. Hilti's "smart" fasteners are equipped with unique identification and digital documentation from the jobsite that can be accessed through a smartphone app and leverages IoT to allow for digital access to identification, certifications, inspection documents, and more.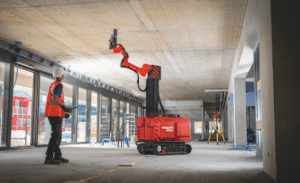 Continuing their journey to offer the industry digitized tools, Hilti also provides the semi-automated drilling technology, the Hilti Jaibot. This machine creates safer, more productive, and highly accurate mechanical, electrical and plumbing installation by marking and drilling holes based upon a digital plan.
Small Fasteners: Small fasteners are another trend in the construction industry. These compact designs take up less space and can fit in harder to reach areas, like edges, while still providing strength. These smaller options are good for ultra-thin applications, where larger, more bulky fasteners, would not fit correctly.
Alternative Materials: Traditionally, the types of fasteners used in construction include stainless steel, alloy steel, and carbon steel. While metal and alloy fasteners will still dominate the industry due to their superior strength, high reliability and longer lifespan, the new use of materials helps to save costs, protect the environment, and deliver lightweight options.
Hybrid fasteners that are both plastic and metal are becoming popular and can be color-coded for easy identification.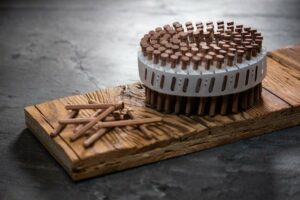 Powdered metal allows for unique shaping which assists with unusual placement.
Wooden fasteners are easy to recycle and install into wood applications. LignoLoc®, developed by the BECK, is the first ever fireable wooden nail for use in industrial production and ecological timber construction. The special design of the LignoLoc® nail tip generates a large amount of heat by friction when the nail is driven, causing the lignin of the wooden nail to weld with the surrounding wood to form a substance-to-substance bond. LignoLoc® wooden nails are shot pneumatically, which eliminates the need for any additional pre-drilling, such as that for wooden dowels, saving time and money.
Plastic fasteners are rapidly expanding their use and footprint in construction and building projects. This type of fastener offers builders flexibility, low weight, and cheaper prices.