In a recent survey conducted by the Content Marketing Institute, 71% of manufacturing marketers reported that content marketing has become more important to their organization over the last year, but the lack of resources, like budget and staffing, pose challenges for marketers looking to reach their organization's content marketing goals. That paired with over half of survey respondents stating that they have undocumented or no content marketing strategy at all is making this approach to the overall marketing concept of manufacturers stagnant.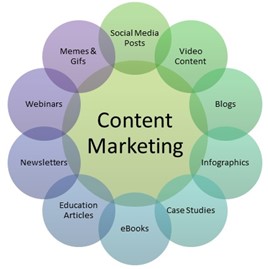 Source: MBA Skool
Creating a consistent content experience across their buyer's engagement journey is an opportunity content marketing professionals are still looking to tackle, along with tracking and measuring content performance correctly.
A Holistic Approach to Content Marketing in the Manufacturing Industry
To develop a consistent distribution of content, marketers utilize an all-encompassing approach. Email and their organization's website are the most used platforms for manufacturing marketers to distribute their content. Blogging also saw an increase in use from 50% in the previous year, to 59%.
When it comes to social media, LinkedIn was the social media platform highlighted as "extremely or very helpful at helping their organization meet its content marketing goals." 67% of respondents reported an increase in their organization's investment in social media, up from 40% the previous year.
With the widespread popularity of video platforms like YouTube, it's no surprise that the use of video was reported as providing the best results in the past 12 months according to 57% of manufacturing marketers. Furthermore, 80% of these survey respondents said their organization will invest/continue to invest in video in 2023.
Budgetary and Staffing Concerns for Manufacturing Marketers
Economic uncertainty is contributing to a downward projection in content marketing budget, only 42% of survey respondents think that their budget will increase in 2023. Along with these budgetary concerns, internal communications, teamwork, and technology present challenges and concerns for manufacturing marketers.
As we see with many organizations and employees, content marketers are stretched very thin in their roles. They are hoping to see relief with 46% of respondents expecting their organization to hire or contract for content producers in 2023 (e.g., writers, designers, videographers).
Those who are able to overcome these pain points will set themselves apart from competitors and have a strong advantage in the industry.
Creating Opportunities to Advance with Analytics and Technology
To assess content performance, content marketing professionals rely most on social media analytics, as well as website traffic, website engagement, and email engagement metrics. Extracting data to gain insights, especially when it requires integrating across multiple platforms, is proving to be an obstacle in measuring the effectiveness of the overall content strategy.
Technology tools, especially those that include analytics and social media publishing, are at the top of the tech stacks used by content marketers. That said, 67% of manufacturing marketers surveyed said their organization either hasn't obtained the right content management technology or has the technology but isn't using its full capabilities.
Marketing for the fastener industry will be featured on the IFE 2023 Session Stage, register today to learn insights and best practices to help take your company's marketing strategy to the next level!