International Fastener Expo was back in Las Vegas, NV last week, October 17-19, and what an action-packed three days it was! Fastener industry attendees and exhibitors from around the world gathered at the Mandalay Bay Convention Center for expert-led educational content, a variety of opportunities to network with peers and the most up-to-date top services and solutions in the fastener space.
This year's show provided new features and proved that events are making a strong rebound! IFE 2022 saw exceptional attendance; Show Director, Morgan Wilson says, "We are getting pretty close to pre-COVID numbers, we may even exceed them here, which is pretty exciting!"
Our annual Golf Tournament kicked off the event on Monday morning, October 17, with record breaking attendance. More than 145 players across 36 teams took to the beautiful Bali Hai Golf Club for some friendly competition and excellent networking opportunities.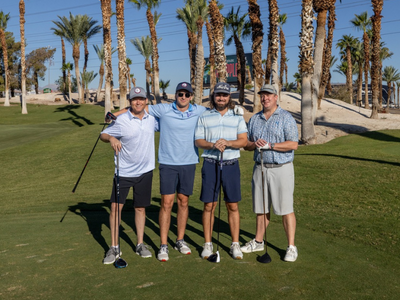 Prize winners from the golf tournament:
1st Place: Jack Dobek, Dennis Doyle, Tim Quick, Eric Mason – B&D Cold Headed Products
2nd Place: Ryan Cooper, Mark Hamilton, David Doyle, Gage Fasbender – B&D Cold Headed Products
3rd Place: Jim Williams, Ron Townsend, Mike Sterling, Jake Sloan – Williams Form Engineering and King Steel
Longest Drive (Men): Bryce Oliviera – Patriot Bolt
Longest Drive (Women): Amy Cammeron – Central Wire
Closest to the Pin (Men): Jeff Orejel – Gage Bilt, Inc.
Closest to the Pin (Women): Erin Waidelich – Aircraft Fasteners
While the golf course was filled with IFE attendees, so was the classroom for the Fastener Training Institute's full-day training course, How Fasteners Are Made & What Drives the Cost of a Fastener, led by fastener expert, Laurence Claus.
IFE's special events continued with our Welcome Reception at Mandalay Bay's Daylight Pool. Over 800+ attendees came together for an evening of great conversations, open bar, our signature cigar rolling cabana and lively music and dancing. The Vegas weather was incredible, and this was the perfect way to wrap up a successful Day 1!
Before the IFE Expo Floor opened on Day 2, the show debuted their first-ever Keynote speaker! Dirk Beveridge, CEO of UnleashWD and Executive Producer of We Supply America! engaged the audience with his presentation, Innovate! How To Create Relevancy in The Age of Disruption.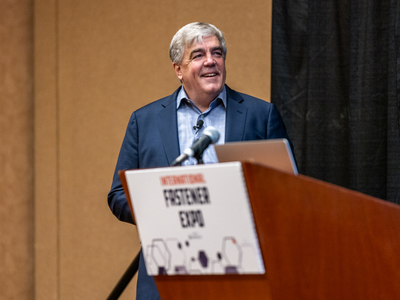 Once concluded, the Expo Floor opened its doors to attendees, veteran exhibitors like Brighton-Best International, Goebel Fasteners, Nucor, Star Stainless, Parker Fasteners and more, as well as some first-time exhibitors including Alox and Optimas Solutions. The Expo Floor hosted domestic and international exhibitors and attendees from 30+ countries. Our new event app, IFE Match, helped to bring attendees and exhibitors together in a new, "smart" way of connecting with their peers, building business opportunities, exploring educational sessions, and building their itinerary – all from their mobile device both pre-event and during the entire show.
IFE's educational sessions on the Expo Floor Session Stage presented attendees with strategic, forward-thinking solutions and insightful knowledge on topics that included e-commerce, inflation, 3D printing, productivity and the next-gen workforce. These innovative sessions took place on Tuesday, October 18 and Wednesday, October 19. All sessions are available on demand on the IFE Match app for 30 days post event.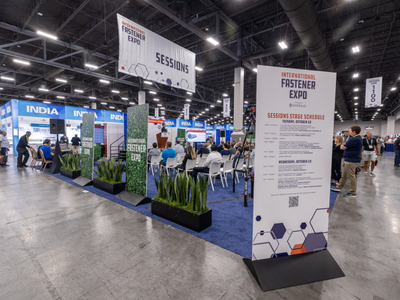 Our traditional Hall of Fame and Young Fastener Professional of the Year awards took place on the afternoon of Tuesday, October 18.  A full audience filled the Session Stage area, and our max number of inductees were ready to receive their awards and be recognized by their friends, family, and colleagues. We were so excited to celebrate our 2022 award inductees – congratulations again to all of these industry leaders!
Hall of Fame Inductees:
Andy Cohn – Duncan Bolt
Tim Malone – Spring Bolt and Nut Manufacturing
Rick Rudolph – Rick Rudolph Associates LLC.
Joseph Volltrauer – Volt Industrial Plastics, Inc.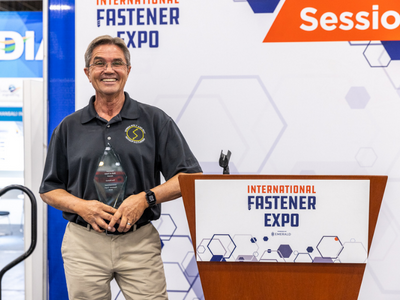 Young Fastener Professional of the Year:
Bryan Wheeler – Star Stainless
The show was extremely successful! The Expo Floor, educational sessions and special events were in full swing and booming. We got to see so many familiar faces and make new connections too.
"As always, we hope that attendees can come back from the show inspired, with new ideas, and new relationships. We hope IFE brings everyone together to overcome challenges moving forward," Morgan Wilson, Show Director.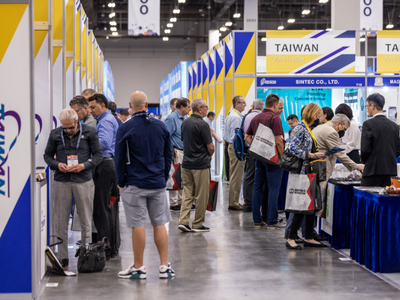 Thank you to our exhibitors, attendees, and partners for joining for the 2022 International Fastener Expo. We are already hard at work preparing for next year's event. International Fastener Expo 2023 will take place October 9-11, 2023, at the Mandalay Bay Convention Center in Las Vegas, NV. Make sure you are ready once registration opens, complete this form for registration email updates.