It's no secret that hiring in the manufacturing industry is a current challenge many employers are facing. A lack of skilled labor, along with a generational shift, contributes to the difficulties that many manufacturing companies face as they look to hire and retain employees. 1 in 3 executives surveyed in Deloitte's 2023 Manufacturing Industry Outlook have retaining high-performing employees as their strategic priority for 2023.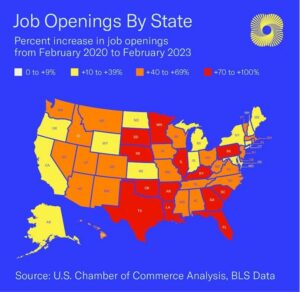 Good people with the right skillset are hard to find and even harder to keep. Here are four proactive approaches that manufacturers can take to best navigate the immediate labor landscape:
Change the perception

– There are many misconceptions about manufacturing jobs, whether it be surrounding pay, physical demands, or professional development. When connecting with talent it is best to address these misconceptions head on, make certain that candidates fully understand the job and growth potential. Debunking these false impressions with facts will help to paint a more accurate and attractive outlook for job seekers.

Market your roles

– Do you have a mobile friendly career page for candidates to easily access job openings? Are your job descriptions appealing? If you answered no to either one of these questions, it may be time to re-evaluate and update your talent acquisition and recruiting strategies. Additional opportunities to improve your outreach include:
Partnering with local colleges and technical schools.
Hosting an open house at your facility – show candidates around and let them meet with employees.
Highlighting success stories, like employees who are promoted within.
Ask for Employee Referrals –

Your current employees speak the loudest and can be your best recruiters. Don't forget to ask them if they know anyone who would be a good fit for the company and culture. Develop an employee referral program and make sure that your employees are aware and understand what is offered. The incentives can be anything from cash bonuses, recognition, additional PTO days, and prizes.

Create a Collaborative Culture

– Actively involving employees in their development, training, and problem solving directly related to their role or involvement in the organization can help to drive retention. This can be done through surveys, focus groups, roundtable discussions or one-on-one conversations. Conducting these conversations on a consistent basis can help to give employees a voice in decision-making and problem solving, and pinpoint trends, changes, and opportunities to best meet the needs of your workforce.