A diverse supplier is defined as an business that is "majority owned (51%) and operated by an individual or group that has been historically underrepresented or underserved in the economy." This can include small businesses, women-owned businesses, veterans, and minority-owned enterprises. The 2020 Annual Business Survey, conducted by the U.S. Census Bureau found that there are some 1.1 million minority-owned businesses, 1.2 million women-owned businesses and 331,000 veteran-owned businesses.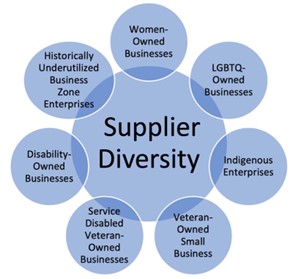 Source: NetSuite
Companies that invest in supplier diversity enjoy up to a 20% saving in procurement costs. This inclusive procurement approach not only benefits from a cost perspective, but also builds more resilient supply chains, supports corporate social responsibility (CSR), and environmental, social and governance (ESG) programs.
According to a recent MIT Sloan Management Review, 85% of Fortune 100 companies have committed programs designed to source products and/or services from companies owned by women, veterans, people of color, and other non-majority groups. With that said, on average these companies procure only 10% of their goods and services from these diverse suppliers. Is supplier diversity key to a successful U.S. economy?
Nancy Marshall, President, CEO and Owner of Marshall Sales, Inc. based in Detroit, Michigan discussed more about her experience running a certified woman-owned business enterprise (WBE), the wide range of impacts that supplier diversity has on procurement strategies, and how mentorship plays an important role in the overall success of these underrepresented business communities.
IFE: What key advantages do you think supplier diversity gives to organizations, both from a buyer and supplier's perspective?
NM: Supplier diversity is key to any organization that supplies products to our diverse population. Without supplier diversity, you won't have input from all the end users of the product. We all bring our own expertise, efficiency, and design into the products we supply and want to see that included in the products we purchase.
IFE: Do you think that supplier diversity benefits other areas of the business i.e., hiring, employee morale, engagement, etc.?
NM: Supplier diversity benefits all areas of the business from hiring to morale, engagement, and leadership. I don't believe you can expect organizations to include you as a diverse supplier if you do not in turn practice those same principles or require the same expectations within your own business. Our hiring practices, promoting practices, and purchasing practices at Marshall Sales, Inc. are all based on being inclusive, regardless of gender identification, race, ethnicity, or religious persuasion. We evaluate and review our practices annually and provide a great workspace that is inclusive, supportive, and enriching.
IFE: What are the biggest challenges/obstacles that women-owned businesses face today?
NM: I think one of the biggest challenges that women-owned businesses face is the possibility of not being taken seriously. We have to work harder to prove that we can do what we say we can and we have to work harder to gain the trust of organizations to take a chance with us.
IFE: Where do you see the biggest opportunity for women-owned businesses in the next 1-3 years? 
NM: I think in the next 1-3 years that woman-owned business enterprises (WBE) will see the biggest opportunities in the Automotive Industry. There has been so much recognition of women in the design and leadership roles in all the major automotive groups prompting mandates to drive the increase of inclusion in every aspect of their spend! The support and mentorship we have received recently has vastly improved.
IFE: How can teammates, family members, mentors and other significant life figures help support, empower, and elevate women in the workforce?
NM: Promoting and empowering women starts at home by not limiting experiences or looking at historical gender barriers as valid anymore. Let your children know they can be or do whatever they want professionally and then walk the talk by exposing them to women in those types of roles. The same applies to teammates and coworkers; we must be encouraging and supportive of each other and walk the talk in every aspect of our lives.
IFE: Can you tell us more about the Great Lakes Women's Business Council's (GLWBC) and the MentorWe program?
NM: MentorWe's mission is to encourage and support Women Business Owners who are seeking to gain a competitive advantage in their businesses through focused discussion, strategic planning, acumen enrichment, coaching and mentoring provided by well-established WBE's, Corporate Executives, and Resource Partners in a peer setting of other similarly positioned Women Business Owners (group mentoring).
Stellantis has been a long-time champion and supporter of the Great Lakes Women's Business Council (GLWBC). The partnership with Stellantis and the GLWBC, and this program specifically, was initiated over a year ago following the success of previous cohorts. GLWBC joined forces to curate a program with specific WBE segments in mind for development and preparation for opportunities with Stellantis and/or their supply chain. This is a program spread over 9 months with access to all phases of business operation mentorship.
IFE: How did the opportunity to take part in the MentorWe cohort change your business and/or personal growth?
NM: Participating in the GLWBC MentorWe program has been OUTSTANDING!!! Throughout the 9- month program we have both virtual and face to face sessions monthly. We are provided mentorship by advanced WBE owners who provide real world advice on successful business practices, as well as business education by experienced practitioners, a variety of networking opportunities, and guided discussions with peer women business owners. We receive supplier diversity professionals' guidance on navigating procurement processes. All of which were at no cost to us.
We also had a mentor within the program that followed up with us after each session so we could discuss the takeaways and have any questions that we may have answered. I have gained a great network of women in the automotive industry that have either been a great resource or have shared experience that I can reach out to and not feel alone when I have challenges. I have gained business through the supplier diversity matchmaker partnering/mentorship. My current project is updating our marketing/social media presence.
IFE: Why do you think opportunities to mentor or be a mentee are important?
NM: Opportunities to mentor or be a mentee are important because without both, it is nearly impossible to succeed. Both play a role in helping to eliminate all the mistakes made in one's career that end up costing so much time and money or, worst case, failure. They help you to know you are not alone and that sometimes making a mistake is okay if you can learn and correct them. Mentorship provides a safe space to talk about challenges, fears, and opportunities with someone who is committed to helping you achieve your goals and remove barriers. It makes things not so overwhelming to an individual trying to realize their dreams.
IFE: Who was your first mentor on your professional journey?
NM: My first mentor in my professional journey was my father, Rex Marshall, who certainly taught me a lot about business basics, confidence, and how to operate in what was then certainly a male-dominated industry. He taught me from the ground up so that I would understand every aspect of the business. After him, I would say that my mentors were other members of WBENC, NAWBO, GLWBC, NAWIC and other such women in leadership role associations that I became a member of.
IFE: If you could share one piece of advice for the next generation of female leaders in the fastener industry, what would it be?
NM: My piece of advice for the next generation of female leaders in the fastener industry would be to "be the solution". Find something that differentiates you from every other business with the same products you have, know your customer's pain points and be their solution.
IFE: What do you love most about the fastener industry?
NM: My favorite part of the fastener industry is all the different applications and projects that I can be a part of because of the products we supply. From automotive interiors to medical ventilators to food processing or connecting bridges; we are after all what keeps things together!
About Nancy Marshall: Nancy grew up in the family business, Marshall Sales, Inc., and started working full-time there in May of 1984. After working her way up through the ranks, she took ownership from her father in January of 2005. She is a graduate of the school of hard knocks and comes from a family of 12 (3 boys and 9 girls). She is now the mother to 3 grown children and 3 granddaughters. When she is not working, Nancy has a passion for the outdoors, sports, family, and travel, and promoting women in leadership.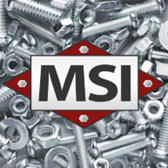 About Marshall Sales, Inc.: Marshall Sales, Inc. was incorporated in 1956 in Detroit, Michigan where they are still located today. They branched off from our sister company, Aluminum Supply Company, Inc. (ASCO) which was incorporated in 1948. The idea to create Marshall Sales was from the need of our ASCO customers for fasteners and installation tools required to install their fabricated metal products. Today, Marshall Sales Inc. primarily serves the Automotive Industry. We supply fasteners, installation tools, small plastic components, and are a great source for small production parts where customers do not want to have to add additional vendors to purchase and manage that inventory. We are also a certified repair facility on all the installation tooling that we sell. We are certified Women Owned. We are ISO 9001/14001. We offer inventory management and MRO to the Automotive, Construction, and Industrial markets. To learn more, visit www.marshallsales.com.