After getting her start as a receptionist at Associated Fastening Products, Inc. and Integrated Packaging and Fastener Inc. 20 years ago, Jill Lewis now holds the role of President. Working her way up and witnessing the growth of both the business and her career, Jill said that this experience and the teachers and educators she met along the way influenced her to build her long-term profession in the fastener industry.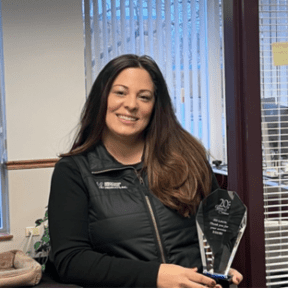 One thing that Jill loves most about the industry, the networking, "Most of us work together and sometimes we are competitors but that never stops us from helping each other. I enjoy that we all try to build each other up and be a stronger force together," Jill stated. This way of thinking transfers over to her involvement with WIFI and is just one of the many reasons why she believes others in the industry should get involved with the organization, "I think WIFI has really helped me with other women in our industry on a level of trust and support when I need them, we always help each other out."
Her experience with WIFI has come full circle and is something that makes her sisterhood journey very special, "When I was younger the women that were a part of it at the time really pushed me and helped me become who I am today, and now I can do that for women just starting in the industry," Jill shared.
Jill sees big opportunity for the fastener industry in the way that marketing and social media play a part in building stronger brands, "Social media has been great for us, getting new opportunities in a more organic way."
In her spare time, Jill, her husband and their 3 sons love going on adventures, traveling together, and trying new things! They are also currently into antiquing and finding old baseball memorabilia.


About WIFI
WIFI's mission is to provide opportunities for women in the fastener industry at all levels of experience, to unite in order to educate, mentor and encourage one another, for the express purpose of advancing women in the fastener industry.
Learn more about WIFI: www.fastenerwomen.com