Rockwell Automation's 8th annual State of Smart Manufacturing Report surveyed 1,350 global manufacturers to learn more about the technological challenges and opportunities this industry faces.
Adoption of smart manufacturing is critical in staying competitive, agile, and efficient; with over half of survey respondents noting that smart manufacturing is extremely or very important to their future success. Technological transformation has been occurring at a rapid pace and in every aspect of the way manufacturers operate.
The hang up… a third of these manufacturers surveyed are finding themselves unable to decide between solutions and where to invest in technology for their organization, coined as "technology paralysis," this number is on the rise from 2022.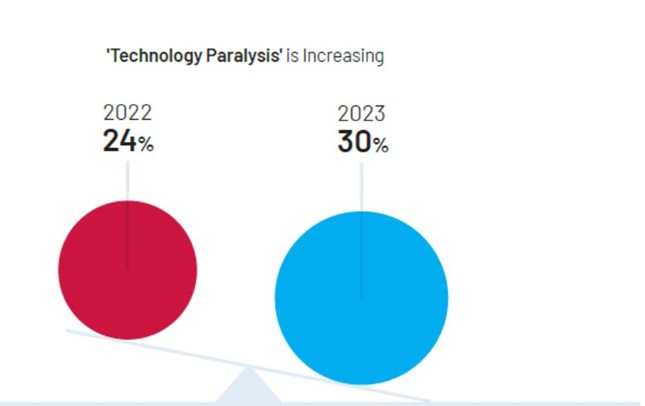 Source: Rockwell Automation's State of Smart Manufacturing Report
The overload of information can hinder a manufacturer's ability to innovate and progress. That combined with a company's struggle to generate ROI from the technology investments and the narrow room for financial mistakes is causing manufacturers to get stuck in a cycle where they are in fear of making the wrong choice, and in turn, missing the opportunity to implement technology. This inaction can result in costly mistakes.
There are ways to help prevent tech-related analysis paralysis. One of the most straightforward strategies is to set a firm deadline for your decision making and stick to it. This keeps you focused and efficient, and ensures you aren't getting caught up in time-wasting activities or unnecessary research. It also may be beneficial to create a standardized process in your decision making. While there is no "one-size-fits-all," being able to examine aspects like: impact, implications, effects on employees and training needed during implementation and/or continuous, scalability and the overall ability to meet requirements and goals will result in a more complete analysis. Lastly, having a trusted advisor who can lend their expertise can allow you to view the solution from a new lens, gather additional reasoning or perspectives, and ultimately determine a final decision.
Review the entire State of the Smart Manufacturing report here.