$600 – $1000 SPONSORSHIPS
The International Fastener Expo offers a variety of ways to stand out from the competition and drive business to your company. With a mix of affordable and effective advertising and promotional opportunities, you are guaranteed exposure and attention unrivaled to what any other trade show can offer.
Please contact our sales team with questions or to make your purchase.
BEAT THE PRO CONTEST SPONSOR
Sponsor the Beat the Pro contest on Hole 16 with your company name, logo, and booth number on the hole sign. The pro will either hit for you or against you for a small donation fee. All donations collected will go towards the Fastener Education Foundation.
Benefits include:
Company name, logo, and booth number on hole sign
Logo on Golf Tournament flyer
Logo inclusion in Golf Tournament emails to attendees
Logo in social media/blog posts relating to the Golf Tournament or contest
Investment – $600
IFE MATCH FEATURED PROFILE
Sponsors will be put at the top of the exhibitor list and match recommendations (once they match with an attendee).
7 Available
Investment – $750
SINGLE SIDED METERBOARD AT IFE WELCOME PARTY
Make sure everyone knows where your booth will be at the expo the next day! The meterboard will be strategically placed for maximum foot traffic and have your logo and booth number on it.
Investment – $750
HANGING AISLE BANNER
Get high visibility by putting your brand on IFE's 2′ x 4′ aisle number signs, the most utilized directional signage at the show. View example >>>
Investment – $775
SILVER DIGITAL PROMOTION PACKAGE
Enhanced listing features + more! (see chart for details)
Premium placement at the top of the exhibitor list
Investment – $795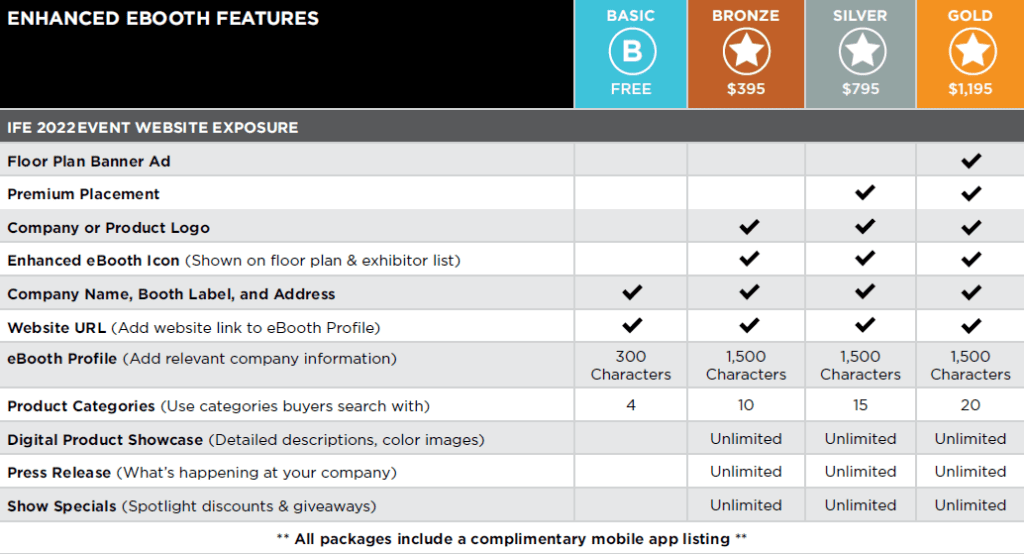 Log in to the exhibitor console to complete your exhibitor profile and learn how you can make a lasting impression on attendees. For questions regarding enhanced listings, or how you can improve your online profile, contact: Ashish Jain at (443) 393-2441 or exhibitsupport@a2zinc.net.
FLOOR PLAN BANNER AD
All attendees will be viewing the online event map. Catch their attention in this hot spot with a trackable banner ad (205×60).
Investment – $795
TV ADVERTISMENT AT MANDALAY BAY
Make an impression on attendees staying at the Mandalay Bay Hotel by adding your logo or custom ad to the in-room TVs.
Top or Bottom Ad $795/day or $2,250/5 days
Contact your Account Executive to learn more
EMAIL MARKETING CAMPAIGN
Be prepared to engage with show attendees before you set foot on the show floor. Renting our attendee list to email them before the show opens is a great way to start the conversation with potential customers about new products and special promotions. Your message will be delivered to thousands of show attendees including distributors, manufacturers, and independent sales representatives.
Investment – Starting at $800, contact your Account Executive to learn more
FLOOR DECALS
Stand out from the competition and help attendees navigate to your booth. Decals are 3′ x 6′. View example >>>
Investment – $800
WATER STATIONS
Keep attendees hydrated while highlighting your brand. Your company will be prominently displayed on a water station on the show floor. View example >>>
Investment – $850
BOXED LUNCH SPONSOR AT IFE GOLF TOURNAMENT
When the players break for lunch, your brand will be the one they see. Your company logo will be printed on stickers placed on lunch boxes for each player.
Investment – $995
BRONZE SPONSORSHIP PACKAGE AT IFE GOLF TOURNAMENT
Network with key buyers and ensure maximum visibility to your target audience through packages designed to put your brand at the forefront. Sponsorship packages for IFE's annual golf tournament allow you to stay top of mind as your buyers head to the show floor after a fun game of golf.
Logo on 3 Holes
Logo on ticketing page and website
Recognition in emails to attendees and awards
Investment – $995