With the Bureau of Labor Statistics' 2020 findings that the warehousing and storage industry's injury rate of 4.8 per 100 workers is higher than the U.S. average of 2.7 per 100 rate among all private industries, OSHA has implemented a new regional initiative to reduce worker injuries and illnesses in warehousing, storage and distribution yards. This recently launched 5-year program focuses on industry employers in Pennsylvania, Delaware, the District of Columbia, and West Virginia.
OSHA's regional administrator in Philadelphia, Michael Rivera, said in a recent news release, "With the rapid growth of e-commerce, the warehousing industry has significantly expanded. This emphasis program will address hazardous conditions these workers continuously face every day."
Due to the small workforce of inspectors that make up regional OSHA offices, the organization doesn't perform annual checkups of warehousing operations. With this initiative, a more targeted enforcement and on-site inspections around the warehouse industry health and safety hazards, like lockout/tagout procedures, machine guarding, use of powered industrial trucks, blocked aisles and exits and more, will hold employers accountable.
To see the full details on OSHA's Regional Emphasis Program for Warehousing Operation, please read the official PDF released.
With these new OSHA initiatives going into effect, how are companies taking a proactive and innovative approach to warehouse safety? Here are three examples:
Wesco's Tech-Enhanced Wearables
Last year, Wesco's health and safety team expanded its dedication to safety in its warehouses by rolling out wearables for its warehouse associates. Wearables are small devices worn on the body that can track data, connect to the Internet, and analyze and plan a course of action based upon wearable information and recordings – think smart watches, activity and health trackers, etc.
Key Info from Wesco's Wearables Program:
Wesco's wearables pilot program was aimed at reducing the risk of hazardous movements for their employees – specifically reducing spine hazards among the warehouse team.
This IoT program works in real time to alert individuals with vibrations and beeps when hazardous movement was detected to allow for immediate adjustments.
Tips and Best Practices from Toyota's On-Demand Resources
Increases in supply chain demands and e-commerce becoming a dominate force for companies has also given way for a need for trained forklift operators. Toyota's Top Warehouse Safety Tips for a Successful Operation provides an online resource hub specific to forklift safety, including videos, checklists, infographics and more.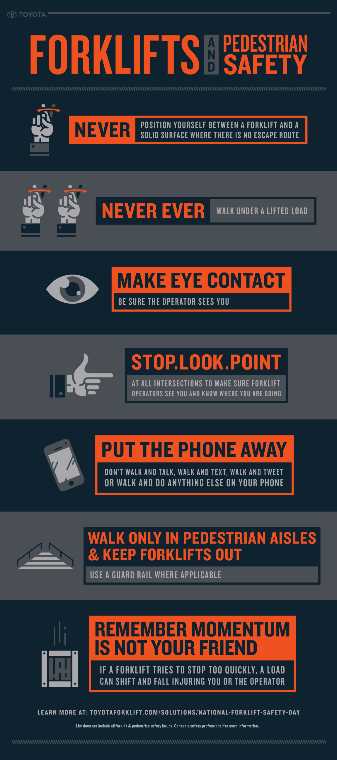 Pre-Operation Inspection | Electronic Forklift | Electric ITA Class I
Inspection Procedures | Internal Combustion Forklift | ITA Class IV & V
Inspections | Order Pickers | Reach Truck | Electric ITA Class II
NFI's New Robotics
New Jersey-based logistics provider, NFI, is rolling out a new autonomous robot named "Stretch" across its US warehouses over the next few years. This robotics addition supplied by Boston Dynamics is being deployed to not only help speed its unloading process in warehouses, but also to alleviate the physical demands, improving worker safety.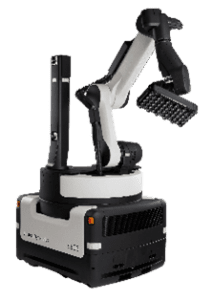 Photo: https://www.bostondynamics.com/products/stretch
NFI's CEO spoke about this new technology in a company press release saying, "Our innovation portfolio emphasizes productivity and safety in NFI's operations. With Stretch, we will enhance the movement of freight through our facilities while providing a safer environment for our employees."
This pilot program will begin at NFI's Savannah, Georgia warehouse in 2023 and then expand across the company's national warehouses over the next few years.