Every issue of Fastener Technology International (FTI) magazine contains one or more Roundup Article on various technology subjects, and in a recent issue the subject of sorting and inspecting fasteners was covered in an eight-page article featuring editorial contributions from several suppliers of the relevant equipment and services. Many of these suppliers will be on hand at the International Fastener Expo 2023 in Las Vegas, NV, USA, where visitors will be able to see sorting and equipment systems in operation as well as discuss the latest innovations with industry experts. Here are three excerpts from the article:
Inspection Technology Upgraded with Eddy Current Testing
Wolfgang Korpus, CTO at ibg NDT Technology, Ebermannstadt, Germany, and Bill Lawrence, General Manager at ibg NDT Systems Corporation, Farmington Hills, MI, USA, say, "In the fast-paced world of production, staying ahead of the competition is crucial. This is especially true in the fastener industry, where a single defective product can compromise the integrity of the entire project. Therefore, cost-effective 100% testing is critical and an important point of differentiation. At the same time, the installed base of inspection machines is often given, so a refresh is required for an advanced test solution. In this context, Norm Fasteners, Turkey's leading fastener manufacturer with an annual production capacity of 200,000 tons, has decided to upgrade.
"Norm Fasteners, which has significant experience in integrating technology into production workflows and strong local partners, saw an opportunity to upgrade existing camera-based inspection machines with the latest eddy current crack testing technology and contacted IBG as a leading eddy current technology provider. The improvement project was implemented during 2020 and 2021, which opened time slots in operations for the required work. The project was carried out with the Norm Fasteners engineer team supported by TMM, IBG's experienced partner in Turkey, and the application consultancy of IBG engineers.
"More than a year after the realization of the highly successful project at Norm Fasteners, Mehmet Akif Döker, General Manager of NRM Mühendislik, which is Norm Holding's own machine manufacturer. said, 'We completed the upgrade without any problems with the support of TMM and IBG. But more importantly, people think our test units agile and easy to use. With IBG's unique good part calibration, a new part type is very easy to install and extremely reliable. Its high precision means we can detect even the smallest defects. But at the same time, it is essential for a healthy position in the competitive fastener industry and it offers the opportunity to reduce the so-called rejection rate by 3%.'
"The unique IBG eddy current technology made a significant impact on the test performance level. Thanks to its easy-to-use interface, it makes it easy for employees to operate machines and perform inspections with a short training. The so-called 'good part calibration' allows new part types to be set up quickly and easily. This has allowed Norm Fasteners to increase productivity while serving varying demands.
"A key benefit of IBG's nondestructive technology for crack testing is the increased sensitivity and accuracy of Norm Fasteners inspections. The ability to detect even minor defects in screws and bolts has greatly improved quality control. This is especially important for automotive customers, where safety and reliability are paramount. In addition, more and more specifications require a 100% reliable heat treatment assessment of surface-hardened screws (e.g., in white body applications) and bolts (from battery packs to seat rails). Inductively hardened screw and bolt ends are the focus of these tests by IBG's structure test instruments, as they play a critical role in the overall performance of the product.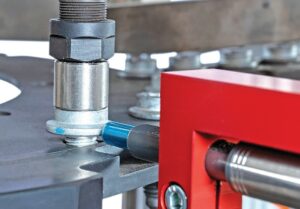 "Additionally, despite the challenges that have been faced by the fastener industry during the past few years, Norm Fasteners has decided to invest in IBG technology at the right time and it paid off. The upgrade investment has improved the quality of their products, reduced the amount of so-called rejections and increased overall efficiency.
"After successful expansion in recent years, Norm Fasteners continues to work hard to further expand its global footprint to serve customers worldwide directly on site. Next is the construction of a new manufacturing facility in the USA to provide easier access to the USA market and to conduct more efficient operations. From 2024, Norm Fasteners aims to serve automotive customers in North America at its new location.
"In addition, based on its many years of experience, Norm Fasteners has recently started offering its own line of advanced Inspection Machines to other fastener manufacturers in the global market through its own engineering company NRM Mühendislik, which operates in all kind of robotics applications, machine vision test and measurement equipment and custom-built machines.
"Norm Fasteners' managers state that when it comes to the implementation and operation of eddy current testing technology for crack and microstructure testing, the worldwide IBG service and consultancy network can always be relied upon." www.ibgndt.com • www.normfasteners.com
High-Speed, 100% Inspection Machines & Single-Piece Inspection Machines
Danielle Crittenden, Marketing Coordinator, General Inspection, LLC, Davisburg, MI, USA, says, "General Inspection provides high-speed, 100% inspection machines and single-piece inspection machines for QC and shop floor quality checks for fasteners and other turned parts. The Gi-360T, Gi-100DT, and VisionLab are the best inspection system options for fasteners.
"The Gi-360T is a high-speed, 360° laser gauging machine that utilizes an eight-laser array to measure part profiles at rates of up to 400 ppm.  The machine uses eight additional sensors and real-time part velocity calculation to create a 3D profile of each part, along with measurement of a wide range of definable features to determine if each part meets the defined dimensional requirements. The Gi-360T measures several crucial fastener features such as head diameter, lengths, straightness, concentricity, threads (including major, minor and pitch diameter), it also detects damaged threads. The Gi-360T includes a tilt and lift feature for the laser head, this ensures the lasers are perpendicular to the part and corrects for the cosine error of headed parts, providing unparalleled measurements of diameters, lengths, angles, and radii. The Gi-360T inspection machine also has optional Axial Vision for critical head/flange crack detection as well as optional Eddy-Current to verify parts have been heat-treated.
"The Gi-100DT utilizes a glass dial table, which provides ideal transportation for flat components. The stability of the parts allows for better image analysis, image capturing, and precision. The Gi-100DT is primarily used for sorting parts that have less than a 3:1 length to diameter ratio—nuts, valve spring retainers, rivets, bushings, washers, etc.—all at up to 800 ppm. Multiple sensors can be added to the Gi-100DT including Eddy Current, Multiple Vision Stations with Gi specialty lenses, plus Laser Topography. Eddy Current ensures detection of metallurgical defects such as seams, missing plating, or presence of heat-treatment. Vision stations can be added to detect defects like chips in the ID, missing internal threads, damaged threads on deep threaded holes, nylon ring presence, chips in grooves, cracks, missing or damaged weld projections, and missing crimp. The Laser Topography sensor shows a 3D profile of the parts and can measure diameters and heights, as well as find defects like chips, dents, and flatness. The Gi-100DT sorting machine has great flexibility to sort a wide variety of parts.
"GI's VisionLab is a single piece inspection machine that measures all profile characteristics, it is the only true 3-Dimensional gauging system that provides complete part measurements. In less than seven seconds, all dimensions including lengths, diameters, radii, angles and external threads are displayed and measured accurately, within two microns. Part tolerances are assigned with the appropriate part number and stored in memory for quick recall. Any feature found to be out of tolerance is highlighted in red for immediate notification. A complete roster of all part dimensions is stored in the system, which is then transferred to a customizable data collection program. VisionLab, 3D gauging system advantages include complete inspection time in less than seven seconds, enhanced GD&T feature measurements, simplified 3D GUI, and built-in self-calibration. VisionLab comes in three different sizes: VisionLab 75 which can measure parts up to 75 mm in length and up to 35 mm in diameter, the VisionLab 150, which can measure parts up to 150 mm in length and 50 mm in diameter, and the VisionLab X that can be custom designed to fit most applications including integrating pick and place automation.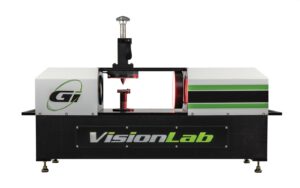 "Gi offers patented systems that detect dimensional and visual defects simultaneously. Gi systems incorporate laser, vision and eddy-current for dimensional measurement, visual defect detection, and rejection of metallurgical anomalies as a method for fastener manufacturers and distributors to achieve zero defects." www.geninsp.com
A New Version of the Best Seller for Long Bolts and Double Ended Studs
Massimo Agrati, CEO of Dimac Srl, Tortona (AL), Italy, says, "Dimac's latest machine, the MCV2 XTR, is an automatic inspection and sorting device for long headed engine bolts, anchor bolts and double ended studs. This machine offers 100% control and sorting capabilities, ensuring that every inspected fastener complies with the technical manufacturing specifications.
"The MCV2 XTR is designed to provide dimensional controls and NDT controls to determine the dimensional compliance and heat treatment and material quality compliance of inspected fasteners. This is crucial for products like vehicles, trucks, trains, tractors and similar machines for agriculture that require accurate 100% control. Any noncompliant piece could disrupt the assembly line and compromise the functionality of the final product on a medium- or long-term basis.
"One of the key challenges of inspecting such a wide range of fasteners with varying geometries, materials and weights is the flexibility and ability to perform a 100%-dimensional inspection. However, the MCV2 XTR tackles this challenge using a slant V-Track that uses gravity to slide the parts along and capture their shadow profile image with a digital camera or detect the material structure while they pass into an Eddycurrent encircling coil.
"The machine's flexibility and user friendliness are some of its most appreciated features, allowing it to sort a wide range of fasteners with short changing over times from one size to another. The use of two Opto-Engineering® telecentric TCC PLUS optics as a lens for the side camera and as the backlight also enhanced the accuracy of the measurements.
"The sorting flap at the end of the V-Track has been designed with a robust high-speed actuator to divert OK/NOK heavy-weight parts to 150 mm long, providing an efficient and reliable way of separating compliant and noncompliant fasteners. Dimac machines are distributed and serviced by Angor-Intools in North America and Canada." www.dimacsrl.com • www.angor-intools.com
Visit the Current Issue Archive section of www.fastenertech.com to see the entire article in the June/July 2023 issue, pages 88-95, where several more suppliers are featured.