Supply chain challenges continue to cause disruptions to the global manufacturing industry, keeping businesses cautious in their approach and strategy.
With the next growth phase for manufacturers requiring them to innovate and evolve with technology, this will be a critical step for businesses and a key competitive advantage for those who can successfully identify and implement technologies, tools, and the teams to help facilitate these systems.
Let's pull back the curtain and look at PwC's recent supply chain survey to learn more about how manufacturers are dealing with the supply chain challenges and best prepare for opportunities and future success in 2023 with the use of technology.
Quick Takeaways:
Companies surveyed by PwC expressed more of a focus on short-term bottom-line activities related to supply chain, as opposed to long-term transformative efforts.
Increasing efficiencies and managing/reducing costs top the list of priorities over the next 12-18 months.
Budgetary concerns and constraints remain the biggest obstacle for companies with ongoing plans in place to digitize their supply chain, almost half of the surveyed respondents citing this as its top three challenges.
Supply chain operations has seen turnover that surpasses the norm, putting emphasis on training and upskilling for the workforce.
3 Digital Supply Chain Trends to Prepare for in 2023
Integrating ESG into Supply Chains
Companies are at a crossroads when it comes to ESG. While many of the PwC survey respondents say that ESG is a minor challenge and therefore not prioritized, a more proactive ESG approach will result in a competitive advantage and significant operational and reputational protection from risk. Here are just a few ESG strategies for manufacturers to think about:
Increasing supplier diversity
Defining criteria around environmental policies related to the supply chain like energy use, pollution, and waste
Creating ESG metrics for both suppliers and the company as a whole
Outlining governance policies in supplier contracts to show commitment and compliance from outside suppliers
Digital Training and Upskilling
Turnover and workforce shortages continue to be a major operational challenge for most, if not all, employers and professionals, supply chain included. 43% of PwC's survey respondents plan to invest and develop digital skill sets to meet future goals; with most companies surveyed expected to make changes to their operational systems in the next year. It is crucial that they have talent who can keep up with the technology needed for supply chains to operate efficiently today and as we look ahead to the future. Bridging the gap through education, training, professional development, and support, not only motivates and helps to retain those already employed, but also doubles as an attractive recruitment tool for the next generation of employees. Some upskilling strategies include:
Create a training program – include a variety of opportunities from on-demand, virtual, classroom style, simulations, industry conferences and more
Include upskilling in employee performance plans and goals
Connect current employees with new employees for mentorship opportunities
Track progress and provide recognition
Prioritizing Investments in Tech
Cloud-based systems continue to be the top trending tech investment, with more than a third of respondents saying their companies are planning to invest at least $1 million into these advances. When it comes to these tech investments meeting company expectations, four out of five respondents expressed that they didn't completely fulfill the anticipated results for so many different reasons. While manufacturers have come along way within their use of technology in supply chain operations, it still has a long way to go, with lots of opportunities to adopt and fully deploy these transformational systems.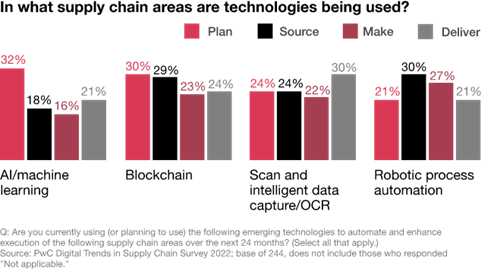 Technology has proven itself to be an extremely instrumental advantage for companies who can look at the long-term plan surrounding the systems they implement in their organization. Digital transformation opens the door for growth, efficiencies, and improvements in other areas of business, including people, resiliency and risk – just to name a few.
Learn more about new advances, tools and trends impacting the supply chain at the International Fastener Expo this October 17-19, 2022, in Las Vegas, NV – register today!