Ahead of the YFP panel session at IFE 2022, George Hunt III, panelist and Regional Midwest Manager at Brighton-Best International Inc., shared more about his start and continued involvement in the fastener industry and how the next generation of fastener professionals is vital for this workforce.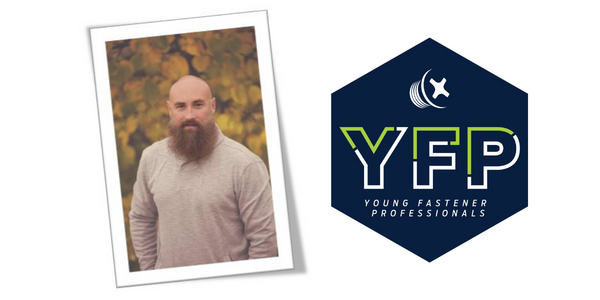 Tell us a little bit about yourself and something about you that the audience may not know yet?
I grew up in the business as most of you know.  Been with Brighton-Best International my entire twenty-five-year career.  However, what you might not know is that I actually went to college on a full ride to become a musician. I played the bassoon in several different symphonies surrounding the Cleveland area and also freelanced as a trombone player in local Jazz clubs.  One late night after a gig, I stood in my father's basement eating macaroni and cheese.  I decided I didn't want to eat macaroni and cheese for the rest of my life, so I switched majors.  I still however like and eat macaroni and cheese.
Who and/or what influenced you to build a career in the fastener industry?
Truth be told, I tried to run away from the industry, I wanted no part of it.  As I grew older, it just kind of kept calling me back.  Part time jobs turned into full time jobs, and I realized it was something that I was good at.  Influencers such as Dick Kerr, Charlie Kerr, Ken Graham, Scott Faidiga, Marty Nolan and Steve Andrasik all took a vested interest in me and for whatever reason they kept motivating me and supporting my quest to be the best I possibly could be.
What is your best piece of advice for young people or professionals just beginning their career in the fastener industry?
Advice I still preach to anyone who will listen, given to me very early on in my career; "Shut your mouth and open your ears," I soften it up a little, but sometimes I don't think I should.  There is so much to learn in the industry.  Surround yourself with good people that will teach you how to succeed.  Don't be afraid of surrounding yourself with people better than you either.  This is how the great ones become great.  Sit back and observe, listen and absorb, learn the tools of the trade, and then formulate your own style.
Another piece of advice that has resonated with me in recent years, in which has helped me from a managerial perspective is: find out who you are and be comfortable with that person.  Another seemingly simplistic trait that is difficult to do.
What do you love most about the industry?  
Networking.  It sounds like a simplistic answer but it's true.  Nothing beats the comradery this industry has with one another.  Cohorts, customers, and competitors alike, everyone in this industry is supporting a common goal, to be as successful as one can possibly be.
What are you looking forward to at IFE 2022?
People.  There is something about the art of the chase when it comes to sales that really gets my heart pumping. I love to interact with people. Understanding who they are and what they need.  Hoping that there is some small possibility I can be of assistance to solve that problem, help with that order or convert likeminded solutions into cost savings for our customers.  It's more than a partnership.  It a bond.
Why should attendees be at your session?
Tim Vath and Melissa Patel are the next generation of leaders that will help our industry forge ahead.  I'm also taking my own advice and surrounding myself with individuals who are much better at this than I am.  Our industry and its landscape are changing.  With an inevitable generational shift brought on by retirement, we NEED good, young individuals to answer the call when the bell rings.  Our session will help answer some of the questions our younger generation might have in taking that next step UP the proverbial corporate ladder.
Any tips for first time IFE attendees?
Take it ALL in, it's an overwhelming feeling when you step onto that showroom floor for the first time.  Map out the individuals, suppliers and vendors you must see and do that day one.  Then walk the show again in day two to get a feel for what is out there.  Don't overbook yourself.  Give yourself time to enjoy the networking events, sessions, and cocktail parties.  Anyone who is anyone in this industry will be at IFE 2022.  You have all the necessary tools at your fingertips in two to four days.  Mingle with as many resources as you can.
You can sleep on the flight back home.
George will be a panelist on the session presented and moderated by Young Fastener Professionals (YFP), What's Working Best for Younger Generations?, IFE 2022 on Wednesday, October 19 from 11:15 AM – 12:00 PM.
Register here to see this panel and many other educational and networking opportunities at the 2022 International Fastener Expo this October 17-19 in Las Vegas, NV.