By: Bruno Marbacher
Dear Reader: In the last Link issue, we focused on tapping screws; in this article we continue with the thread-forming screws that form regular threads. There are quite a few different styles to cover. It is not always easy to find the advantages of one over the other.
Advantages of Thread-forming screws
When driven into a work piece, thread-forming screws produce their own mating thread.
The following processes can then be omitted: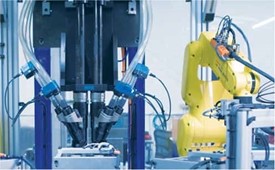 – No Thread tapping
– No Removal of chips
– Inspecting screw thread is not necessary
– Other operations associated with the assembling process not required
– Since each screw produces its own mating thread, there are no problems with thread tolerances
– The screws sit play-free in their mating threads and thus they have an excellent vibration resistance.
Thread-forming screws are extremely reliable and safe They are very cost-efficient and should be used instead of regular screws whenever this is feasible.
Thread-forming screws are usually available in the diameters ranging from 2-8 mm ( 2-56 to 5/16"). They are used in metals and plastics. Consequently, their specific threads are different.
Fastening of the screws is different to that of regular screws. The forming of threads produces a certain resistance therefore they need to be installed with a power screwdriver.
This type of fastener is tightened after they have been driven in. However, typically the final tightening is just snugging up the parts. One does not induce a controlled preload, as this is the case with regular screws.
"Thread-forming screw" is the generic term for these screws.
Thread-forming Process
There are no chips produced during the thread-forming process. Instead, the material is displaced in the mating part, it strengthens the material of the host part.
Thread-forming screws form regular threads in malleable steels and non-ferrous metals without a tapped hole.
The play-free thread fit in the mating thread ensures that the screws are firmly retained. Additional locking elements are generally not needed.
Taptite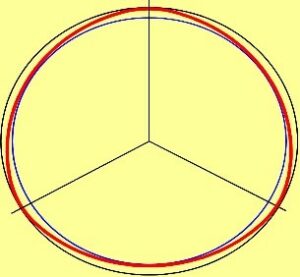 The thread of the Taptite screws has the characteristic trilobular cross-section on its entire length. The trilobular cross-section of the thread, facilitates thread forming when the screw is driven in. The tapered end is necessary for starting the tapping process. This geometric shape is called oriform curve. They have the same diameter, irrespective of the direction the diameter is measured.
The maximum length of the taper should be 3 to 4 x the thread pitch. The tapered thread end does not have a load bearing function. Should the thread forming screws get lost in service, they may be replaced through regular screws.
During thread forming the compressive strains are concentrated on the 3(4) "edge areas". The mating material is more easily deformed this way. The friction between screw thread and mating material is limited to the 3(4) "edges".
Due to the oriform cross section, the thread can be rolled with normal thread rollers. If this were not possible, the screws could not be manufactured cost-efficiently.
The risk of bursting is low in thin-walled clamped parts.
The play-free thread engagement of Taptite screws and their friction, secure assembled screws against spontaneous loosening. Thus, locking elements such as lock washers are not necessary when using Taptite screws.
Thread-forming displaces material; thus, a small bulge is produced at the hole's entrance. This may prevent parts from being tightly fastened. A 90º chamfer, with a depth of 0.5 to 1 x the thread pitch, will avert that. A shallow relief bore will do the same.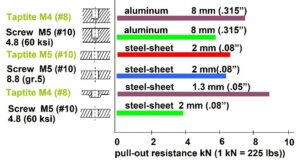 Increasing pull-out force
In thin sheet metals an extruded hole will increase the pull-out force.  Under comparable conditions, pull- out tests show always higher values for Taptite screws than for standard screws in tapped holes. The test was conducted with taptite screws; other thread-forming screws will show similar results depending on the amount of work hardening of the internal thread.
Blind hole assembly in aluminum, penetration depth 8 mm: Taptite M4 has a high pull-out resistance. The machine screw M5, property class 4.8 broke at a lower tensile load.
Taptite screws must be assembled with electric or pneumatic screw drivers. The driving speed should not exceed 1000 RPM.
There are also oriform curves with 5 and more "corners." The circle is ultimately an oriform curve with an infinite number of "corners." The torque for thread forming is very low in such screws.
Materials, Mechanical Properties
Low carbon steels with cold heading quality are typically utilized for thread forming screws. The mechanical properties and performance requirement are covered by:
ISO 7085 standard specifies case-hardened steel. In the final heat treatment, they get a hardness of min. 450-550 HV (HRC 45-52) on the surface. The core is softer, with a hardness of 240-350 HV (HRC 20-35), (thus is tougher).The hard surface is necessary for forming the thread in the mating part.
DIN 267 part 30 specifies mechanical properties of thread-forming screws property class 10.9. Thread forming screws according to this standard can form a mating thread M2 to M10 in materials with a maximum hardness of HRB 72.
SAE J81 specifying mechanical properties and performance requirement for inch thread-forming screws.
The Core Hardness HRC 28-38, whereas Surface hardness is equivalent to HRC45 minimum.
SAE j1237 cover mechanical and performance metric thread-forming screws.
Options per SAE J1237
Type 2 – case hardened core HRC C28-38, surface HRC 45
Type 9 – similar to 9.8
Type 10 – similar to 10.9
DIN 7500 is a product Standard for thread forming screws.
Taptite screws made of a strain-hardened austenitic steel A2(AISI 304) or A4(AISI 316) are also available. However, they can only be used in soft aluminum alloys.
Minimum Breaking Torque Test
It is crucial that the minimum breaking torque (torsional strength) of thread-forming screws is high enough for intended application. The tightening torque for thread forming must be well below the minimum breaking torque, to avoid difficulties during assembly.
The test procedure is the same for all thread-forming screws:
The screw is clamped in a mating split collet with at least 1 full thread protruding above the collet. The screw is tightened with a calibrated torque measuring instrument until it breaks. The minimum required breaking torque must be achieved. The measured breaking torque has no relation to intended assembly. It only confirms that the specified minimum breaking torque is met.
Ability to form Threads
Tests simulating practical situations must show that the selected screw is adequate. The functional performance of the thread-forming screw is tested with the following test. Thread forming screws are driven into metal plates of defined hardness. The sheet thickness and the pilot hole diameters are given for each screw dimension. The screws shall be turned in with a torque measuring instrument till their specific conical thread end has emerged on the reverse side. At this point, the maximum thread-forming torque (Nm) is reached.
The tightening torque for thread-forming screws for metal is calculated as follows:
The breaking or stripping torque, whichever is lower, minus the driving torque value. For through holes, the difference is divided by 2, the result is added to the driving torque value. For blind holes the difference is divided by 3.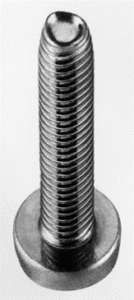 Different styles of taptite screws
"Taptites" have been around for more than 40 years. Over the years different styles emerged. It may be difficult to see the difference. Most of them are designed for unique applications. In most cases the original taptite will do just fine. If a specific type is necessary, it ought to be based on the intended application. One should perform application testing to determine which one is most suitable.
Taptite II: The Taptite II® thread-forming screw is a further development of the original Taptite. The design allows lower driving torques. Taptite II forms threads in Sizes 00/M1 to as large as 1"/M24.
Duo-taptite: Duo-taptite screws have large lobulation, meaning a more trilobular cross section at the screw's point, for easy entry and low driving torque. In the mid-section it has a reduced lobulation, meaning a more round cross section, thus providing a higher pull-out force and breaking torque. DUO-TAPTITE is superseded by TAPTITE PRO
TAPTITE 2000: The Taptite 2000 design combines benefits of taptite ii, and Duo-taptite fasteners, with an even lower driving torque. Taptite 2000 fasteners introduced the Radius Profile thread design. The TRILOBULAR® principle is maintained with a dual lobularity in the screw body, while incorporating the Radius Profile™ Thread.
Taptite Pro : Taptite Pro has a Parabolic thread Profile (slight curved convex section). This thread form, when combined with the TRILOBULAR® cross section, provides low driving torque, high resistance to vibrational loosening along with high pull-out force. Taptite Pro is the latest taptite design.
Tap/R 
The Tap/R thread-forming screw consists of a distinctive thread arrangement that starts out as an intermittent, tapered thread and increases to a complete 360° thread form. The mating thread is formed gradually with minimal driving torque. The tapered point of these thread forming fasteners easily locates the pilot hole and eliminates cross-threading.
The relief on two sides of the shank functions as a paint scraper to remove paint or porcelain from the pilot hole.
MAThread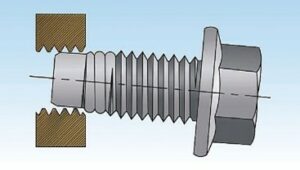 MAThread and MATpoint uses a thread shape that prevents threaded fasteners from cross threading and/or jamming. Due to its thread design, misaligned MAThread fasteners routinely become aligned with their mating parts during assembly. MAThread is widely used for cars, trucks, motorcycles, snowmobiles, all-terrain vehicles.
Spiralform
The Spiralform screw has 4 raised lobes, arranged in a spiral pattern alongside the thread, enabling forming a thread in the mating part. the thread can be formed with a low driving torque This type of thread causes little radial stress, thus is well suited for aluminum key extrusions.
The screws have a slightly tapered end point for easy insertion. The points length should not exceed 4x the thread pitch P.
Swageform
Swageform screws have 3 sets of forming lobes at the tapered thread end. A reduced contact Area results in a lower drive torque.
Triform
Triform screws are characterized by forming lobes at the tapered thread end. As per company brochure it has a low driving torque. There is also another type – it's called Triform DB which has a more tapered point.
Rolok
Rolok screw has 3 raised lobes, like Spiralform, they are arranged in a spiral pattern alongside the thread, allowing the forming of a thread in the mating piece. Rolok offer excellent drive-to-strip performance in many applications.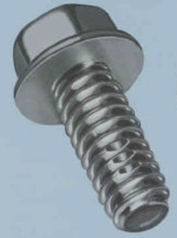 Low-Driv
A special thread point offers forming pressure relief, which lowers the driving torque. The tapered point with relief indentations extends all the way up into the body where the circumference of the threads is at their largest diameter (360° round body). The low initial driving torque enable easy engaging, making the fastener ideal for applications where accessibility to the pilot hole is hampered, eliminating cross threading.
Conclusion
To choose the best possible thread-forming screw, the decision should be based on the intended application. Application testing should be performed.  One should work with an application engineer that is familiar with thread forming screw applications, one that gives advice based on the product features that are most suitable for the application.
Distributor's Link Magazine is an award-winning, multimedia publication dedicated to reporting, educating, and promoting the fastener industry since 1976.
Contact: Tracey Lumia